Important:

Coworking has moved to a new location!
We now have several locations in San Francisco and coworking spaces opening in such places as New York City, Paris, and more.
See the new coworking web page for details; the information on this page is now out of date and is kept for historical reasons.
Coworking: Community Office Space for Writers and Programmers
Tired of working from coffee shops every day?
Miss community and structure in your work life?
Try Coworking!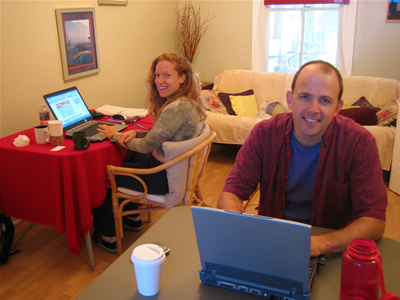 Coworking is community office space for self-employed developers and writers.
Our office is in a beautifully converted Victorian in San Francisco. We meet Monday and Tuesday, from 9 AM to 5:45 PM.
Members have access to free WiFi; a beautiful garden; support in setting and achieving work goals; a full kitchen and attached coffee shop; a healing space with massage therapists; and more.
We are a non-profit co-op with low, monthly rates. Feel free to drop by the space on Mondays and Tuesdays to try it out for free up to four times. We are limited to five total members, so act quickly!
We are located in the Spiral Muse house at 3387 22nd St., near Guerrero in San Francisco.
Questions? Contact Brad Neuberg at 510-938-3263 or bkn3@columbia.edu
Images