Wednesday, July 14, 2004
Decentralized Software Radio and TV
Three very interesting opinion pieces/weblog entries from others on what is going on with distributed TV and radio:
Over here they are talking about Software Radio and what it means for the Internet and (illusionary) radio resource scarcity.
This stuff is pretty amazing.
Flash O' The Day
mod_bt - Making things better for seeders.
mod_bt - Making things better for seeders.
: "mod_bt is a BitTorrent tracker for the Apache webserver. It is written in C and runs as an Apache 2.x module. It is possible for mod_perl or PHP to directly access the tracker's information; no need to download and bdecode scrape URLs. The tracker is fully configured from within Apache's own configuration file."
WikiWiki Improvements
Wow,
this is
a trip. It's some sort of brainstorming session on how to improve WikiWiki's. Lots of cool ideas in here: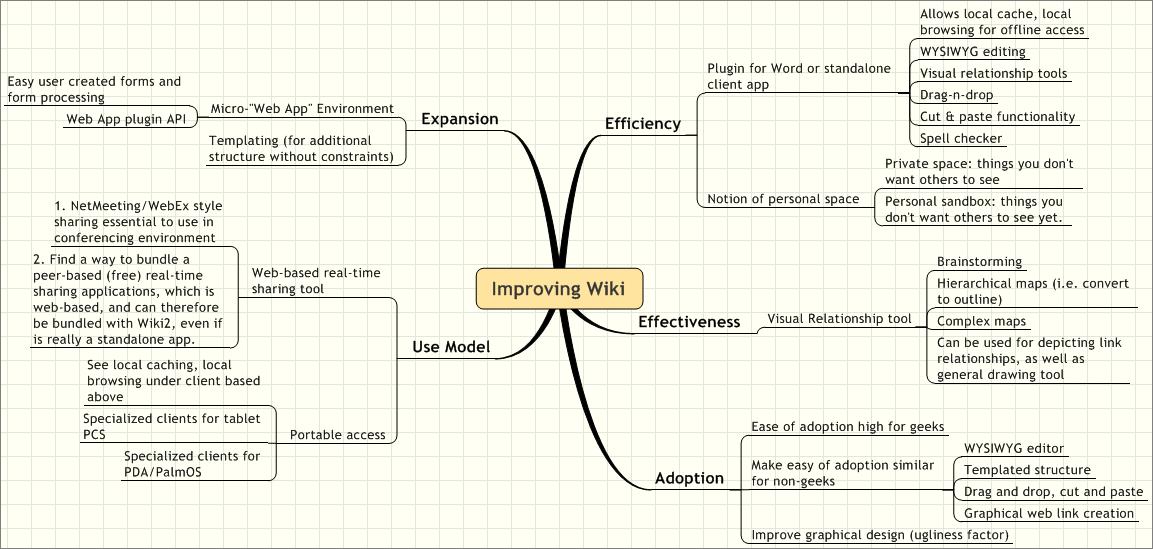 There is also a
fascinating discussion
on standardizing WikiWiki's and making them more powerful here. An excerpt:
One key problem that we identified was the wiki syntax - both from a learning curve point of view and from a wiki tool lock-in perspective. It would be really nice if we could define a unified inport/export syntax that tools can use, either to PUT data to a wiki, or to migrate data from one wiki to another.
Inflatable Space Outposts: Cash Down on High Hopes
Inflatable Space Outposts: Cash Down on High Hopes
: "
With company facilities spread out across some 50 acres here in North Las Vegas, Bigelow Aerospace is bankrolling big-time the private development of large space habitats. Extensive work is underway in designing and building partial and full-scale inflatable modules, fabricated to serve a range of users, from bio-tech firms and educational institutions to other groups wanting to churn out made-in-microgravity products.
"
Note that this is owned by Robert Bigelow, who is the owner of the Budget Suites of America Hotel Chain. The
X-Prize
,
SpaceX
, now Bigelow's involved;
alt.space
is heating up!
A Decentralized Public Key Infrastructure Based On Social Networking
Subscribe to Posts [Atom]