Tuesday, September 27, 2005
Coworking Flyer Finished
I finished the coworking flyer today and sent it off to 4by6.com. They will be postcard size, and will be ready in about two weeks. Here's a sneak peek.
The front of the postcard: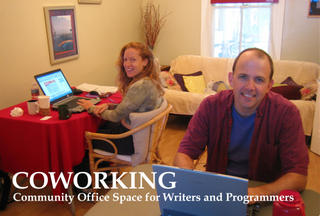 The back of the postcard: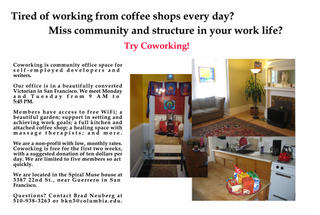 Chris Hobbs at the Coworking Space
Chris Hobbs is checking out the coworking space today: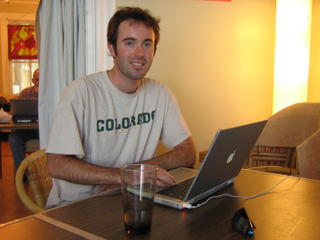 Chris is working on a cool AJAXian event calendar system (Evite must DIE). Chris and I used to work at
Random Walk
together, building enterprise systems for the security industry using J2EE. Thank God we don't do that anymore.
Why don't you try out coworking? Coworking is a way for writers and programmers to have community and structure. We meet on Monday and Tuesday in San Francisco, from 9 AM to 5:45 PM. Contact Brad Neuberg at 1-510-938-3263 or bkn3@columbia.edu for details.
Hacking SVG into Google Maps
This morning
Ruud Steltenpool
pointed me to a
cool post
on
Jibbering
where the author hacks in SVG support in the new beta version of Mozilla in Google Maps:
"The
Google Maps
API uses
VML
in Internet Explorer for drawing polylines over the top of the map - for directions etc. In the other supported browsers though, it renders transparent pngs on the server, so a higher bandwidth load, and not so neat for the user.
SVG
shares a lot in common with VML, so I decided to see if I could hack SVG support into the Google Maps API code in the SVG Enabled Deer Park."
Subscribe to Posts [Atom]