Friday, December 17, 2004
Technorati Developer Meeting
My friend
Niall Kennedy
is
running a Technorati Developers Meeting
this Tuesday at
21st Ammendment
. It should be interesting:
"
Come drink beer and learn more about the Technorati API next Tuesday, December 21, at 7 p.m. at 21st Amendment in San Francisco. I will introduce Technorati API calls, demonstrate some existing applications built using the APIs, and lead you through some sample code using XPath and Java.
"
I'd love to make it to the Tuesday event but unfortunately I will be out of town for Christmas. :( Hope it goes well Niall.
Application for New Years Kiss
I'm an unconventional person who is into unconventional people, and recently I ran across a
great personal ad
on
Craig's List
that I had to respond to. Excerpts from the ad:
"
I absolutely do not want to be single on New Year's Eve, and I'm sure you don't either... It's sooo not as much fun kissing a drunken stranger at the stroke of midnight! So let's make a pact- 24 days from now we agree to be each other's date. We have 24 days to get to know each other, so we'll only be semi-strangers. If you'd like, we can lie to our friends and say we met at a rodeo, because that is much more realistic, indeed."


The personal ad goes on to propose:
"I would like someone that is open to finding a girlfiend and that is absolutely *not* looking for a one night stand."
then lists what she is looking for:
"You be: 24-30, caucasion (Jewish a plus!), sweet, romantic, quirky, smart (but not cocky). Oh yeah, and silly. You must be very, very, silly."


I thought the ad was so creative that I decided to do something creative myself in response. I used Macromedia Fireworks to create an IRS-like form, "Application for a New Years Kiss", using the criteria she posted in the personal ad.
Unfortunately, she never responded. Oh well. It was fun throwing it together.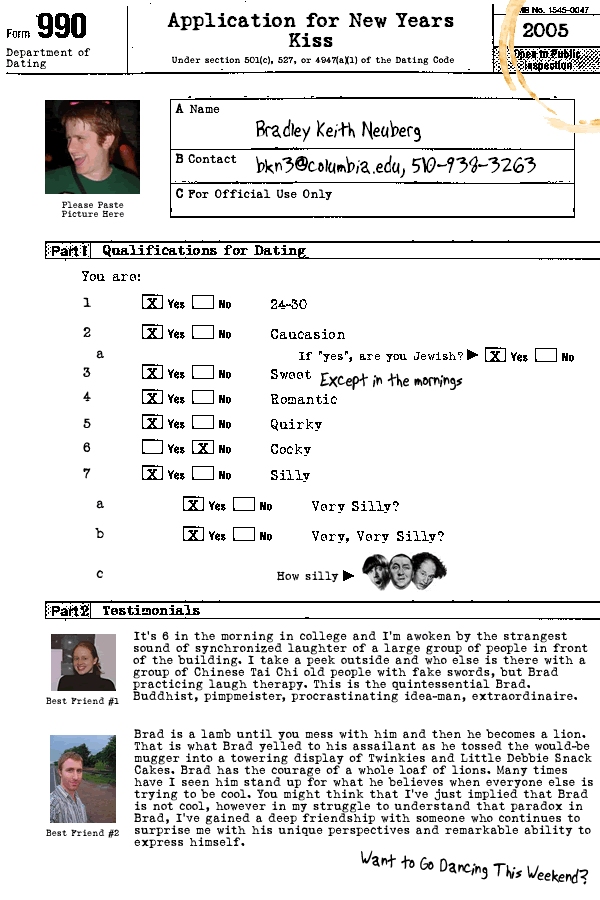 Quantum Astronomy
There is a
fascinating article
on
Space.com
on the possibilities of an entire new field of astronomy known as
Quantum Astronomy
. In a nutshell, it might be possible to find naturally occuring instances of the
double-slit experiment
occuring in space over vast distances, bringing into question
general relativity
's conception of time. I also found a
great email
on the
Everything List
about quantum astronomy and the article referenced above:
"
Quantum astronomy experiment proposed, possibly using the Allen Array Telescope and the narrow-band radio-wave detectors being build by the SETI Institute and the University of California, Berkeley.There are many ways we could go now in examining quantum results. If conscious observation is needed for the creation of an electron (this is one aspect of the Copenhagen Interpretation, the most popular version of quantum physics interpretations), then ideas about the origin of consciousness must be revised. If electrons in the brain create consciousness, but electrons require consciousness to exist, one is apparently caught in circular reasoning at best. But for this essay, we shall not discuss quantum biology. Another path we might go down would be the application of quantum physics to cosmology -- either the Inflationary origin of the universe, or the Hawking evaporation of black holes, as examples. But our essay is not about this vast field either. Today we will discuss the scaling of the simple double-slit laboratory experiment to cosmic distances, what can truly be called, 'quantum astronomy.'
"
The article is actually in
several parts
.
Subscribe to Posts [Atom]