Wednesday, January 02, 2008
Scooter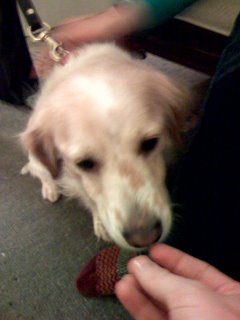 My friend is fostering a wonderful sweet dog named Scooter that she is
trying to find a home for. I told her that I would blog Scooter to see
if we can find him a home. He is 7 and a Spaniel mix. Scooter is very
loving, well trained, and lively. When he's excited he does a little
dance. Scooter can't go home with anyone under 18, can't be around
cats, and needs an experienced owner that wants a companion. Plus, if
you adopt Scooter I'll take you out for dinner or lunch. :)
TV News Is Dead
Tahoe Whiteout
It looks like there is going to be a giant snow dump in Tahoe this weekend, making it almost too dangerous to even drive there for a bit:

SIGNIFICANT SNOW ACCUMULATIONS AND STRONG WINDS WILL CREATE
DANGEROUS AND POSSIBLY LIFE THREATENING WINTER DRIVING CONDITIONS
FRIDAY THROUGH SATURDAY MORNING...MAKING TRAVEL NEARLY IMPOSSIBLE
ACROSS SIERRA PASSES. THE SNOW IS EXPECTED TO TAPER TO SHOWERS ON
SATURDAY BEFORE ANOTHER POTENTIALLY SIGNIFICANT STORM MOVES INTO
THE AREA SATURDAY NIGHT INTO SUNDAY. FOUR DAY SNOWFALL TOTALS OF 5
TO 8 FEET ARE POSSIBLE THROUGH SUNDAY IN THE SIERRA.

Too bad; I was going to take the
Ski Bus
on Saturday.
Subscribe to Posts [Atom]