Wednesday, October 26, 2005
Introducing the Open Library and the AJAX Flipbook Viewer
Last night at the
Internet Archive
we released what we have been working on lately, an
Open Library
. It's an
initiative to scan all of the world's books,
starting with public domain ones. The Internet Archive
team
has created an entire pipeline and process to affordably scan books at ten cents a page, involving
book scanning machines
,
workflow software to transform book images into text and high quality images
, algorithms to correct page quality,
systems to be able to store the petabytes of information for all these books
, and finally a
web-based AJAX system to view and fully search these books
. I was brought on the last three weeks to finish the web-based AJAX book viewer, known as the Flipbook, before last night's launch. Huge amounts of work on the Flipbook viewer were also done by Jesse Crossen and Kevin Webb, including server-side work by Ralf Muehlen and Tracey Jaquith. Graphic design was done by the awesome Ronna Tanenbaum.
The Flipbook viewer
is a full, web-based AJAX viewer for digital books, real books that were scanned using the Internet Archive's scanning machines. Jesse Crossen created an amazing page turning effect as you are reading the book. We've also added unique searching features; enter the word "history"
in the book above
, for example, and the Flipbook viewer queries the server in the background, which uses Optical Character Recognition information to find matches and the coordinates of every page in the book, and which returns the results to the client. The client then uses this information to highlight in place every matching word, positioning a transparent rectangle over all matching words. These are the kinds of cool things you can start doing when you bring books into the digital realm.
The main Open Library page
, where we have fifteen scanned books on launch: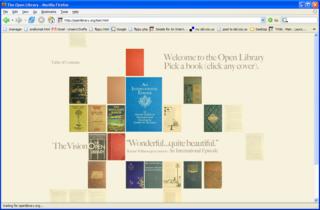 A screenshot viewing the
International Episode using the Flipbook viewer
, needing no plugins: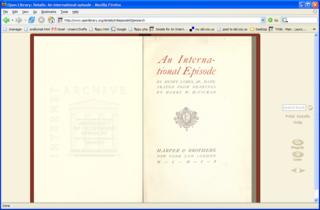 The Flipbook viewer after a search; notice the little yellow tabs where you can jump to search hits. If you hover over them, you will see the search result shown in place with other contextual words: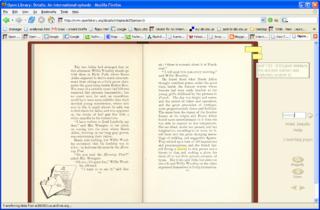 The Flipbook also has print on demand features, audio narration, keyboard navigation, full metadata in balloon popups that appear, and more. It's the beginnings of an AJAXian
Dynabook
.
Comments:
This is a great effort. However the last step is missing: converting those images to pure ascii (and/or html) format via OCR, a la Project Gutenberg and making those files available for download.
eBook market (i.e. people actually reading eBooks) is pretty much limited to mobile devices (Palm/Pocket PC/Symbian PDAs and smartphones). Those devices, mostly due to screen size, are terrible at displaying images or PDF files so all the richness of Open Library is unavailable to them.
A pure ascii, while not preserving extras like images or fancy formatting, is something that can be viewed in a reasonable way on mobile devices.
Post a Comment
Links to this post:
<< Home
Subscribe to Posts [Atom]