Monday, November 23, 2009
New SVG Web Release: Gelatinous Cube
Just in time for Thanksgiving is another SVG Web release. Our tradition is to name SVG Web releases after monsters from D&D just to increase the geek factor, so in that spirit our release name this time is "Gelatinous Cube":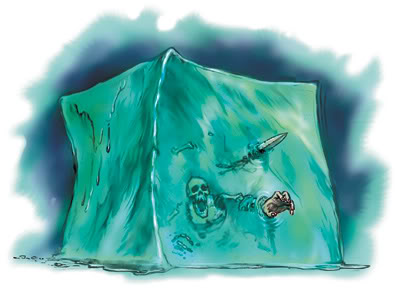 The Gelatinous Cube is a truly horrifying creature:

A gelatinous cube looks like a transparent ooze of mindless, gelatinous matter in the shape of a cube. It slides through dungeon corridors, absorbing everything in its path, digesting everything organic and secreting non-digestible matter in its wake. Contact with its exterior can result in a paralyzing electric shock, after which the cube will proceed to slowly digest its stunned and helpless prey.
Fun times.
Highlights of this release, thanks to many many people helping with patches, bug testing, and more:
Loads of important bugs fixed
Performance improvements
You can now dynamically create new SVG root tags
All the namespace aware functions now implemented: setAttributeNS, getAttributeNS, etc.
You can now clone SVG nodes (cloneNode)
You can now right-click on the SVG when using Flash to view the dynamic updated SVG source
Running getElementsByTagNameNS scoped to a particular node now works, such as myGroup.getElementsByTagNameNS(svgns, 'text')
and much much more
The full list of issues fixed:
Our featured SVG Web project this release is the work Michael Neutze has been doing which he shipped last week: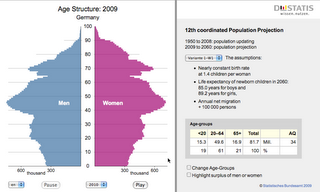 Today the Federal Statistical Office of Germany (think census bureau
or national statistics) published their latest population projection
for Germany until the year 2060 and updated their animated population
pyramid. It had been ASV3 only when it was first introduced in 2003,
then in 2006 it was ASV3 plus native browsers (Firefox 1.5+, Safari
3+, Opera 9+) and now it uses SVG Web.

Apart from supporting Internet Explorer SVG Web was a great choice for
mixing SVG and HTML. Population projections only make sense when you
know the assumptions and those can now be displayed side by side with
the population pyramid using standard HTML and CSS. New in this
release is also the ability to switch between four different
scenarios.

SVG Web's small size (only three files), minimal requirements on the
server-side and the ability to use standard markup were the main
selling points.

Check it out for yourself, it is available in English, French, German
and Russian at
http://www.destatis.de/bevoelkerungspyramide/

Watch a short screencast in english to see all it can do
http://vimeo.com/7687560
Learn more about SVG Web:
SVG Web is a JavaScript library which provides SVG support on many browsers, including Internet Explorer, Firefox, and Safari. Using the library plus native SVG support you can instantly target close to 100% of the existing installed web base. SVG itself stands for Scalable Vector Graphics, an open standard that is part of the HTML 5 family of technologies for interactive, search-engine friendly web vector graphics.
Labels: announcement, open source, release, svg, svgweb
Thursday, October 15, 2009
Saying Goodbye to Dojo
Monday, October 12, 2009
New SVG Web Release: Beholder
Wednesday, September 16, 2009
Open Web Developer Network IRC Meeting for September 16th, 2009 Summary
New SVG Web Release: Umber Hulk
Wednesday, September 09, 2009
New SVG Web Release: Owlbear
Subscribe to Posts [Atom]