Tuesday, December 16, 2008
Facebook Targeting Googlers With Special Ads
LOL, Facebook is targeting Googlers with specific ads: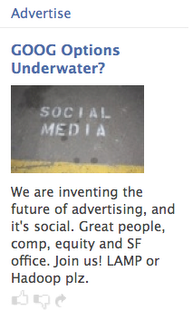 Another Googler told me they saw something similar on their Facebook page.
Labels: google
Comments:
I don't believe the ad is FOR Facebook Niall. It's some lame startup-or-other. They're targeting Yahoos in the same way. I see a slightly different version of that ad when I log into Facebook.
Post a Comment
Links to this post:
<< Home
Subscribe to Posts [Atom]