Tuesday, August 21, 2007
Creating a Personal Research Agenda
One of the things I was doing on my
recent sabbatical
was asking myself "
what the heck am I working on, and why?
" I was taking a bit of a breather to more clearly figure out what I want to focus on, and what direction I want to take my life and career.
Today I want to blog about having your own Personal Research Agenda. A Research Agenda is a list of questions to focus on -- they are the destinations you are tacking towards, the organizing principle around which you work. You might not be focusing on all of them all the time, but just formulating a list and putting it down will cause your mind to roll over them in the background like a kind of background thread.
Usually only research institutions and folks in academia have a research agenda, but I believe every computer scientist should as well. Research and invention are too important to leave to academia and corporate R&D labs -- academia doesn't do computer science research very well anymore ("
how many angels fit on the head of a pin?
"), and corporate R&D labs don't pump out the future of the future like they
used
to
before the 90s. Plus, especially in computer science where you don't need an expensive laboratory or equipment like astronomy or experimental physics does, everyone is empowered to take their own stab at interesting questions.
There is a paper I love called "
You and Your Research
" that talks about having a list of questions that you should be pursuing, and having it clearly in your mind:
Here's my own list of 'important problems' -- some of them are old and I have been hanging out with them for awhile, some are very new. I've listed the question along with a bit of info on what I mean by each one, and some of the potential progress or software for each one that I might have thrown against the wall to see if it will stick. Just because I have a list of questions doesn't mean I have any answers -- these are more inquiries I'm holding on to to see if anything bubbles up. Who knows if I'll get any answers; at the end of the day I'm just a
schlub
asking deep questions :)
I'd love to see others create similar lists on their own blogs. One of the reasons for posting this list is I want to attract others who are interested in similar things, so
we can brainstorm about them
over a strong cup of coffee (or a strong Guinness).
Personal Research Questions
Labels: aboutme, brainstorming, invention, personal research agenda, research
Tuesday, May 22, 2007
Yahoo FrontEnd Summit: Inventing the Future Keynote
A few months ago Yahoo asked me to give the keynote at their internal Front-End Engineering Summit conference. This was a collection of all their front-end engineers from different sites, such as Flickr, the new Ajaxy Yahoo Mail, and more.
Yahoo asked that I come in and talk about the next 5 years of the web. Prediction is hard, especially 5 years in the computer industry, so instead I talked about
inventing the future rather than predicting it
.
This was a really deep speech for me; I struggled with it for 2 weeks, unable to work on anything else; it was a difficult creative process. Here's a 'markety' synopsis of the speech:
Brad Neuberg was asked to give the keynote at the Yahoo 2007 Internal Engineering Summit on the next five years of the web. Instead of talking about the future of the web, he came in and gave a heartfelt speech on invention, inventing the future, and knowing what you stand for. This speech challenges Yahoo to change, goes into the core of invention, and provides techniques for shaking the world up with powerful, new ideas. Become a better software engineer by being an inventive leader.
Much thanks to
Eric Miraglia
of the
YUI
team for setting the keynote up, helping with feedback, manning the cameras, and helping to mix the digital video. It was a great experience getting to know him; he's a super classy guy.
View the presentation
: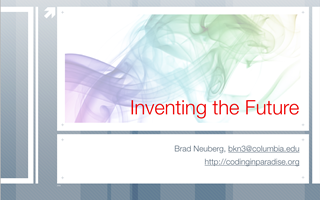 Labels: future studies, invention, keynote, presentation, video, yahoo
Subscribe to Posts [Atom]